We offer distinct services, partnering with our clients, in order to exceed their expectations, and produce transformative results. 
By combining the talent of professionals from all over the world with experts from different areas, IPI Consulting Network and its partners offer unique and personalized solutions.
Our network allows us to leverage our resources, knowledge, and partnerships in order to be an international consultant company focused on our clients.
As a group of international consultants, our main value is our ability to focus in the delivery of tailor-made solutions, achieving competitive and sustainable results.
OUR VISION
IPI Consulting Network aims to be the consultant of public and private entities to promote their knowledge, and produce environmentally neutral, practical, transformative and longstanding results.
OUR MISSION
IPI Consulting Network's mission is to provide advanced services through an innovative, interdisciplinary and integrative approach, thus contributing to define and implement effective, efficient and sustainable solutions.
OUR VALUES
IPI Consulting Network's professional practice is developed according with transparent and robust principles:
Competence and quality
Full commitment with clients and partners
Personal and collective integrity, ethic, and deontology and confidentiality
Best international practices in order to add value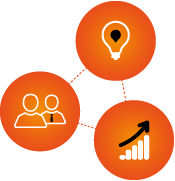 Anticipate the future and act in the present
Sharing knowledge
Gathering experts from different professional areas, facing the challenges in a multidisciplinary way
Establishing networks

Supporting digital transformation and responsible "big data" management

Implementing technologically advanced solutions
Encouraging creativity
Developing new strategies and promoting good practices
Discovering new solutions for old issues, and effective answers to the current challenges
Achieving results together
We believe that sustainable development is only possible through social responsibility and environmental awareness.

Our essential values are:
Professionalism & Efficiency
Integrity & Accountability
Transparency & Confidentiality
Respect for the individual & Team spirit
Honesty & Commitment
Client satisfaction
Strategic partnerships
Diversity of backgrounds and knowledges
Creativity & Innovation